Channa Dal Burfi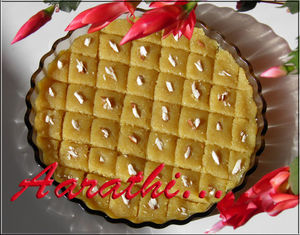 Ingredients
100g channa dal ( Bengal gram)
100g sweetened condensed milk
400ml milk
1/2 cup dessicated coconut
2 tbsp sugar
1/2 cup ghee
1/2 tsp cardomom powder (elaichi)
Almonds & Pistachios.
Method
Soak the channa dal in water & keep aside for 3 hrs.
Strain off the water & cook the dal in 2 cups of milk.
When soft , remove from fire & keep aside to cool.
Coarsely grind the cooked dal.
Melt ghee & fry daal paste to light golden brown.
Add the remaining milk & mix well.
Then add condensed milk , dessicated coconut & sugar.
Stir continuously over medium heat.
When the mixture leaves the sides of the pan, remove from fire .
Add cardomom powder & mix well with a wooden spatule.
Pat it onto a greased dish & cut into desired shapes.
Top with chopped almonds & pistachios.
Happy Diwali