Cantonese Fried Rice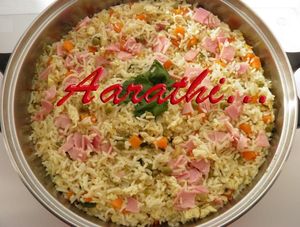 Ingredients
3 cups cooked rice (Basmati / Thai)
3 carrots(cubed)
1 cup frozen peas (thawed)
1 tbsp soya sauce
2 ham (sliced)
1 cup small frozen prawn(thawed)
3 shallots(chopped)
A green chilli (half slit)
1 tsp chopped ginger
1 stock cube
3 eggs (beaten)
Freshly ground pepper
Oil for frying
Method
Heat a non-stick pan with some oil.
Add beaten egg & swirl with a wooden spatule.
When scrambled, garnish with black pepper & keep aside.
Dilute stock cube in a cup of water & keep aside.
Heat oil in a pan & fry chopped challots.
Then add peas , carrots, prawns , chili & ginger, and stir fry for 3mn.
Add stock with soya sauce.
Cover & cook for a while.
When the vegetables are cooked add the cooked rice & mix well;
Stir fry for a few minuites & then add scrambled eggs along with ham.
Garnish with coriander leaves & serve.