Spicy Carrot Muffins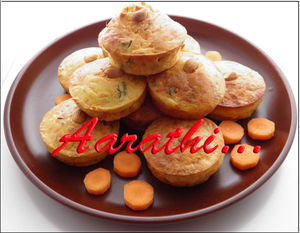 Ingredients (12 muffins)
250 g flour
2 tbsp olive oil
100g grated Emmentel cheese
1 tsp baking powder
2eggs
180ml milk
3 small carrots
2 shallots (finely chopped)
A piece of ginger (finely chopped)
1 red chilli (finely chopped)
Curry leaves (finely chopped)
1 tsp cumin seeds
Salt to taste
Peanuts
Method
Preheat oven to 180°C.
Peel & chop carrots in bits using a blender
In a bowl beat eggs.
Sieve the flour and baking powder together and fold into the egg mixture.
Add olive oil & mix well.
Stir in salmon, ginger, shallots, chilli & nuts;
Then add chopped carrots & curry leaves along with grated cheese.
Add cumin seeds & mix well.
Pour the batter into the greased 12 hole muffin tray.
Decorate with whole peanuts.
Bake for 20mn until risen & golden-brown.
Serve as a starter.