Bolo Rei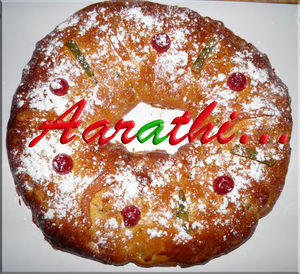 Ingredients
1 trinket
400g flour
15g fresh yeast
40ml luke warm milk
75g butter
75g sugar
2 eggs + an yolk
A pinch of salt
***
25g almonds(chopped)
25g walnuts
10g pine nuts
***
25g sultanas
125g candied fruits (chopped)
1 tbsp Port Wine
For glaze
1 egg yolk
Some candied fruits
Method
Preheat oven to 180°.
Dilute yeast in luke warm milk.
Soak raisins & chopped fruits in wine & keep aside.
Cream together the butter, sugar & salt .
Add beaten egg & mix well.
Mix with the flour along with yeast mixture & knead for 10mn
Then add fruit & nut mixture to the dough.
Cover & leave to rise for an hour.
Then put the dough on a greased baking tray in the form of a ring .
Don't forget to place a trinket.
Allow to rise for half an hour.
Beat an egg yolk in a tbsp milk & glaze the bun.
Bake for 15-20mn.
When brown , remove from the oven.
Arrange candied fruits & glaze once again.
Return to the oven for 5 min.
Dust the Bolo Rei with icing sugar & serve.