Le Rocher De La Vierge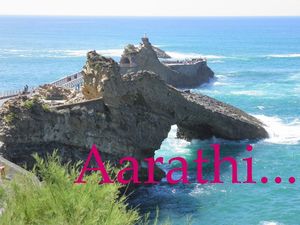 Just a few kilometers away from the Basta Rock is the Virgin's Rock - the symbol of Biarritz.
In 1865, Napoleon III decided to drill this rock, top with a white Virgin statue & connected to the main land with a wooden foot bridge. The present metal foot bridge was constructed by Gustave Eiffel. From this point of the promenade, you get a spectacular view of the two sides of the Basque coast. On one side is the Basta Rock ,Grande plage, Casino & on the other is the Villa Belza , Maritime Museum & the French Pyrenees.