Porter Cake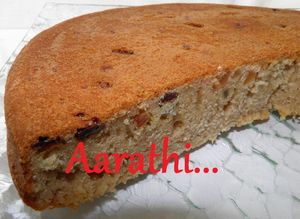 Ingredients
3eggs
270g flour
150g butter
150g cane sugar
1 tsp baking powder
170ml Porter/ Guiness (dark beer)
100g black raisins
100g golden raisins
100g mixed candied peel(chopped)
1 tsp mixed spice mix (cinnamon+nutmeg+cloves)
A pinch of salt
Grated rind of an orange
Method
Preheat the oven to 180°C.
Melt butter in a microwave oven.
Add spices, raisins & chopped candied peel.
Warm it once again in a microwave.
Cream together the butter, sugar & salt.
Add beaten egg.
Sieve the flour and baking powder together and fold into the cake mixture.
Add porter & mix well.
Pour the batter into the greased cake pan.
Bake until a toothpick inserted into the middle of the cake comes out clean, about 40-45mn.
Serve this Irish Porter Cake with tea.