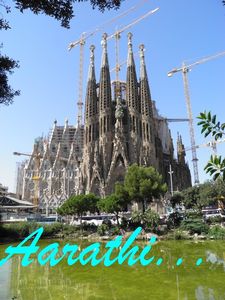 The Basilica of the Sagrada Família in Barcelona is a UNESCO World Heritage site and one of Spain's most visited places.
Mid 19th century, a bookseller José Maria Bocabella decided to build a church for the Sacred Family (Sagrada Familia).This Neo-Gothic Church was designed by Fransico de Paula del Villar and the construction began in 1882. Due to some conflicts , Francisco resigned & young modernist archictect Antonio Gaudi took in charge. He transformed the Neo-Gothic Church into modernist style. Gaudi devoted his whole life to construct this church - until his death on 10th June 1926.
The Sagrada Familia is an important landmark of Barcelona. When completed, this church will have 18 towers. The three facades of the church are named as - Nativity, Passion & Glory. Nativity facade (east) represents the birth of Jesus. It was completed by Gaudi. Passion facade (west) represents the sufferings & crucification of Jesus. Glory facade(south) is under construction.
It's said that this church will be completed by 2030.