Spicy Kroketten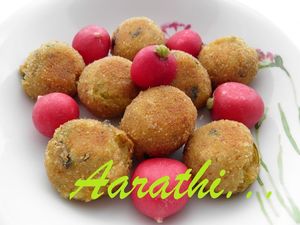 Ingredients
300g minced left over chicken
* To make the Roux*
2 shallots(chopped)
A piece of ginger(chopped)
Curry leaves (chopped)
A green chilli(chopped)
60g butter
60g flour
300ml water /stock
2 soup cubes
Freshly ground pepper
Coriander leaves(chopped)
*For Breading*
2 eggs (beaten)
2 tbsp flour
4 tbsp toasted breadcrumbs
Salt to taste
Oil for frying
Method
Heat butter in a sauce pan & fry onions +chillies +curry leaves.
Add water along with soup cubes.
Add flour & mix with a wooden spatule.
When it thickens, add minced meat.
Garnish with freshly ground pepper & coriander leaves.
Set aside to cool & refrigerate for 3 hours.
***
Take three plates with flour, beaten eggs & breadcrumbs.
Make small balls with the prepared mixture.
Roll in flour, dip in eggs & then roll in breadcrumbs.
The balls must be well coated with breadcrumbs
Deep fry the croquettes in a pan or a deep fryer.
Remove using a slotted spoon & drain on a kitchen paper.
Serve Krokettens for tea or as a starter.



Dutch serve krokettens with musturd sauce.