Crisp Fried Plantain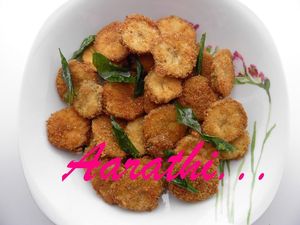 Ingredients
A Plantain
1/4tsp turmeric powder
1/2 tsp red chilli powder
Salt to taste
Curry leaves
*For Breading*
2 eggs (beaten)
100g flour
200g toasted breadcrumbs
Salt to taste
Oil for frying
Method
Peel off plantain & cut in coins.
Marinate with turmeric, chili & salt.
Keep aside for some time.
Take three plates with flour, beaten eggs & breadcrumbs.
Sliced plantains must be rolled in flour, dipped in eggs & then rolled in breadcrumbs.
All the plantain discs must be evenly covered with crumbs.
Deep fry the breaded plantains in a pan or a deep fryer.
Remove using a slotted spoon & drain on a kitchen paper.
Fry some curry leaves in the same oil & decorate the fried plantains.
Serve at once as a starter or with rice.