Wind Mills of Kinderdjik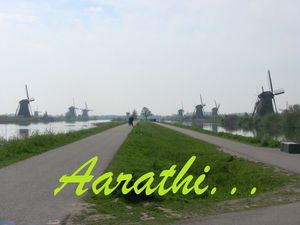 The Wind Mills of Kinderdjik is just 15 km from Rotterdam. This village is located in the Alblasserwaard polder at the confluence of the Lek & Noord rivers. The 19 wind mills were built around 1500 & 1740 to prevent floods. According to the legend, the villagers dicovered a cradle with a baby at the foot of a dike after the Saint Elisabeth flood (1421). Thus this village got it's name Kinderdjik which means "Childs Dike".
In 1997, these wind mills are included in the UNESCO's World Heritage List. Tourists can appreciate these wind mills on foot, by bicycle or by boat. People are living in most these wind mills, but only one - the Museummolen is opened to tourists.
Today the "Wind Mills of Kinderdjik" are the most important sites in the Netherlands. There are river cruises from Amsterdam & Rotterdam.