Stir Fried Carrots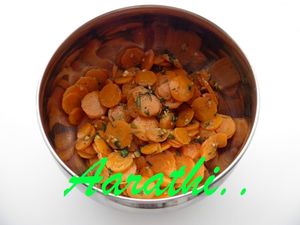 Ingredients
6 carrots ( cut it coins)
2tbsp olive oil
3 garlic cloves(chopped)
1/2 tsp red chilli powder
1/4 tsp tumeric powder
Salt to taste
Coriander leaves
Cumin powder
Method
Heat oil in a pan & fry carrots till translucent
Add salt & chopped garlic.
Fry for a while & then add turmeric & chilli powder.
Add some water & mix well.
Cover & cook for a while.
Garnish with cumin powder & coriander leaves.




Moroccans avoid chilli & turmeric.