Statue of Everard 't Serclaes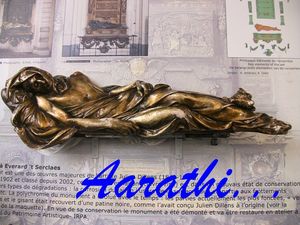 The statue of Everard 't Serclaes is located under the arcade of Maison de L'Etoile at the Grand Place. This bronze statue was made in 1902 by Juliaan Dillens. Everard 't Serclaes - Lord of Cruyckembourg was a town councilor. In 1356, he liberated Brussels from the Flemish forces led by Louis II. In 1388, he was captured & the rebellions chopped off his tongue & feet. He was transported to the Maison de L'Etoile, where he died.
Legend says that the statue brings good luck for all who touches his arm & the dog's nose.