Tortilla de patatas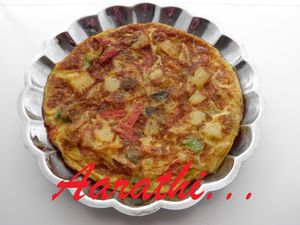 Ingredients
5 eggs
1 red bellpepper (sliced)
2 medium sized potatoes(cooked & cut in cubes)
1 green chilli(cut in coins)
2 onions(chopped)
1/2 tsp cumin seeds
Chopped curry leaves
Olive oil
Salt to taste
Frenshly ground black pepper
Tefal nonstick pan (19 cm)
Method
Cook potatoes in salt water & cut in cubes.
Heat olive oil in a pan & fry onions till translucent.
Then add chopped bell pepper & fry again.
Add salt , chilli & cumin seeds.
Fry for a while & then add cubed potatoes.
Garnish with freshly ground blak pepper & curry leaves.
Remove from fire & keep aside to cool.
***
Beat eggs & then add the prepared vegetable mix.
Heat a nonstick pan with olive oil.
Add the egg mixture & cook uncovered.
When the surface has dried up, cover it with a flat plate.
Invert the pan so that the omlette is on the plate.
Gently slide the omlette into the pan and cook the other side.
Repeat the same with the remaining omlette mixture.
Serve hot.