Sweet Bun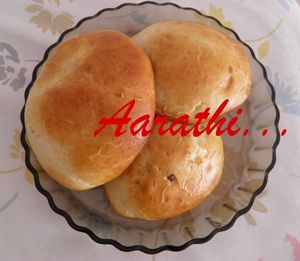 Ingredients
530g flour
25g fresh yeast
120g thick cream
200ml milk
75g sugar
A pinch of salt
25g sultanas
For glaze
1 egg yolk
1 tbsp milk
Method
Preheat oven to 180°.
Dilute yeast in luke warm milk.
Mix all the other ingredients & knead for 10mn
Cover & keep the dough it in the fridge for an hour.
Add raisins & make orange sized balls.
Arrange the dough balls on a greased baking tray with enough space between them.
Allow them to rise for half an hour.
Beat an egg yolk in a tbsp milk & glaze the bun.
Bake for 15-20mn.