Mescouta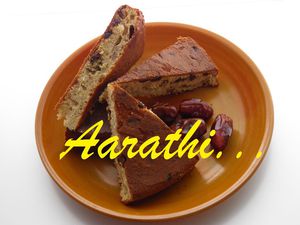 Ingredients
3eggs
200g flour
100g butter
120 ml milk
50g sugar
1 tsp baking powder
120g dates (pitted & chopped)
100g walnuts (chopped)
1/2 tsp cinnamon powder
1/4 tsp cloves powder
1/4 tsp nutmeg powder
1/2 tsp vanilla essence
A pinch of salt
Method
Preheat the oven to 180°C.
Melt butter in a microwave oven.
Add spices, chopped dates & walnuts.
Warm it once again in a microwave.
Cream together the butter, sugar & salt. Add beaten egg.
Sieve the flour and baking powder together and fold into the cake mixture.
Adjust the quantity of milk according to the thickness of the batter.
Add vanilla essence & mix well. Pour the batter into the greased cake pan.
Bake until a toothpick inserted into the middle of the cake comes out clean, about 30-35mn.
Serve Mescouta with tea.