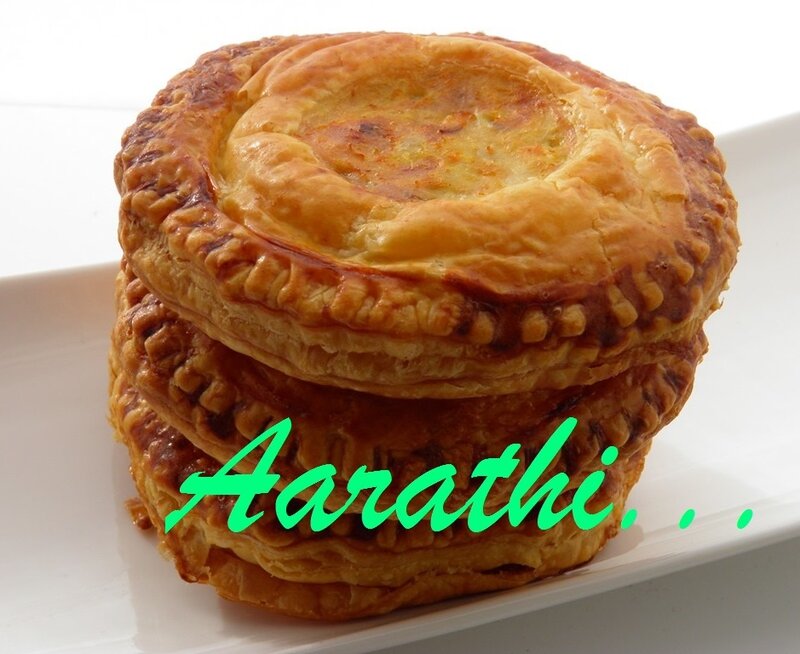 Ingredients
2 Frozen puff pastries
An egg
*Veggie Filling*
4 medium size potatoes (Quartered)
2 carrots(blended)
2 onions (thinly sliced)
2 green chillies (half slit)
A piece of ginger (chopped)
2 carrots (chopped)
A handfull of green peas (optional)
1/4 tsp turmeric powder
1 tsp musturd seeds
1 tsp urud dal seeds
Curry leaves / coriander leaves
Salt to taste
Method
Boil the quartered potatoes in salted water until tender (20 mn).
Drain & let it cool.
Peel, mash it & keep aside.
Use a chopper for carrots & ginger.
Heat oil in a pan. Splutter musturd seeds.
Add urud dal & fry .
Fry chopped onions till light golden brown.
Add carrots, chillies & ginger.
Fry for a while & add tumeric powder & salt.
Add water & simmer for 10mn.
When the water has dried up, add the mashed potatoes.
***
Roll out the puff pastry.
Then cut into 9 cm discs using a cutter.
Leave 1 cm border & spread uniformly the prepared vegetable filling.
Using a bottle cap, cut centre of another disc.
Brush the border with beaten egg.
Place the second disc on top & press the edges using a fork.
Repeat the same with the remaining discs.
Preheat oven to 180°C.
Place it on a baking tray.
Brush the surface with beaten egg.
Bake for 20/30 min - until puffed & golden brown.
Serve hot as a starter / tea.