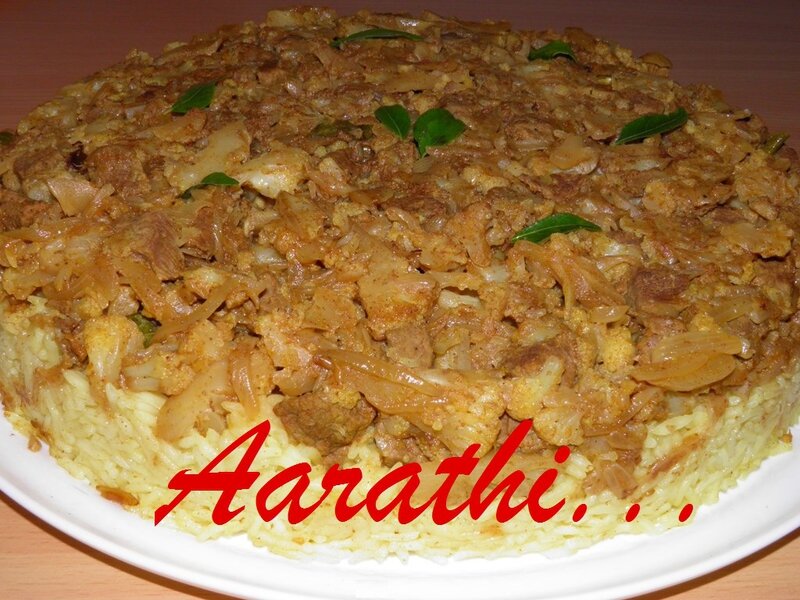 Ingredients
800g mutton (cut in cubes)
2 green chillies (half slit)
1 tbsp meat masala
Salt to taste
****
4 cups Basmati rice
2 cups of mutton stock
4 cups water
1/4 tsp saffron powder
1 stock cube
1 tbsp ghee + 1 tbsp vegetable oil
A cinnamon stick + 2 cloves+2 cardomom pods + 1 star anise
***
1 tbsp ghee + 1 tbsp vegetable oil
2 onions(thinly sliced)
1/2tsp red chilli powder
1/4 tsp turmeric powder
1tsp coriander owder
1/2 cauliflower
1cup mutton stock
Coriander leaves (chopped)
Toasted pine nuts(optional)
Method
Pressure cook mutton & keep aside.
Separate mutton cubes & stock.



Boil water with stock cube.
Mix with saffron.
Heat oil & ghee in a pan.
Add spices (cinnamon +cloves+cardomom+anise) & fry.
Stir for a while & then add basmati rice.
When some rice grains change to light brown, add water + mutton stock.
Bring to the boil, cover tightly and simmer until the rice is tender and the water has been absorbed.
Reduce the heat. When rice is 3/4 cooked remove from fire.
Close the lid tightl y. Stir occassionaly with a wooden spatule.
When cooked remove from fire.
Garnish with garam masala & coriander leaves.



Heat oil + ghee in a sauce pan.
Fry onions & cauliflower florets to golden brown.
Then add cooked mutton cubes.
Add turmeric powder+chilli powder+ coriander powder.
Add some water, cover & cook for a while.
When the sauce has dried up, add the prepared rice.
Press with a wooden spatule & remove from fire.
Cover the sauce pan with the serving plate & gently turn.
Garnish with coriander leaves & toasted pine nuts.
Serve hot with Raita & Chutney.



Maqluba is the festive dish of the Middle Eastern Countries.
"Maqluba" means upside down in Arabic.
They use eggplant along with cauliflower & decorate with toasted pine nuts.