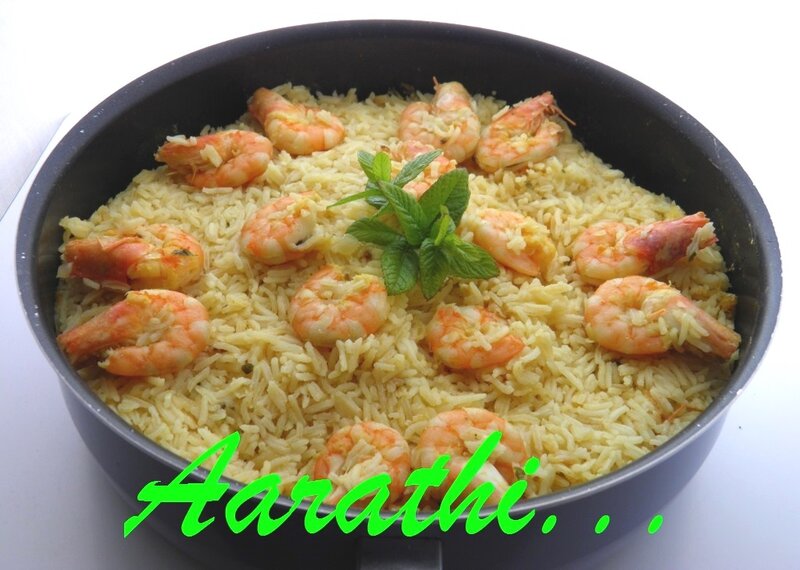 Ingredients
1 cup freshly grated coconut
2 green chillies
10 mint leaves
Few coriander leaves
***
500 g fresh prawns
1/2 tsp chilli powder
1/4 tsp turmeric powder
1/2 tsp salt
***
2 onions (chopped)
6 cloves of garlic
A piece of ginger
2 tomatoes ( chopped)
For Rice
4 cups Basmati rice
5 cups water
1 cup coconut milk
1 tsp salt
***
1 cinnamon stick
3 cardomom pods
1 star anise
3 cloves
2 bay leaves
2 tbsp ghee + 2 tbsp oil
Method
Shell, devein and wash prawns using salt and turmeric.
Marinate it in turmeric , chilli powder & salt & keep in the refrigerator for 2 hours.
***
Grind first four ingredients to a fine paste & keep aside.
Boil water, add salt & keep aside.
***
Heat butter + oil in a sauce pan.
Add all the spices.
When aroma of the spices rises add chopped onions.
Fry till translucent & then add (ginger+ garlic) paste.
Fry for few minutes & then add chopped tomatoes.
Then add marinated prawns along with coconut paste
Add basmati rice & mix well with a spatule.
Add boiled water along with coconut milk.
Bring to the boil, cover tightly and simmer until the rice is tender and the water has been absorbed.
When rice is 3/4 cooked, reduce the heat.
Remove from fire & close the lid tightly.
Stir occassionaly with a wooden spatule.
When fully cooked, remove the lid
Garnish with coriander leaves & garam masala.
Serve hot with Raita & Chutney.