Almond Cigars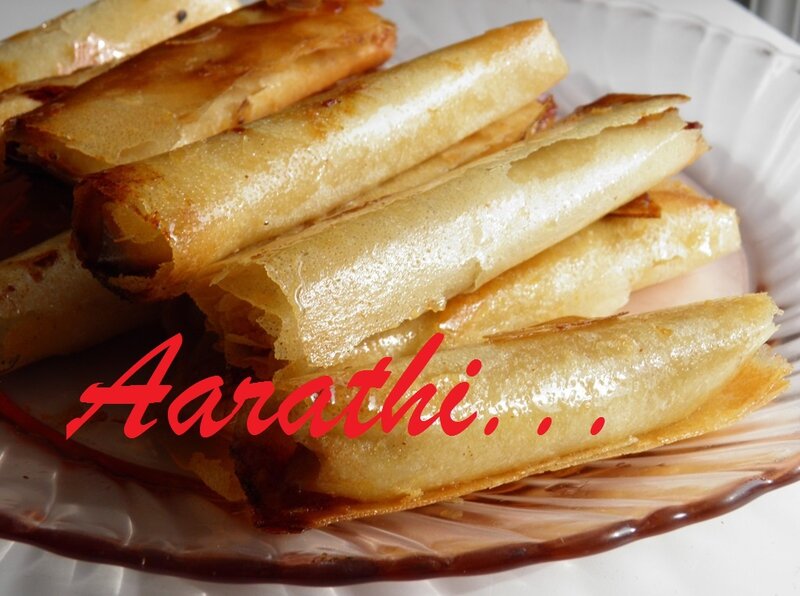 Ingredients
15 Tunisien brick pastry (feuilles de brick)
Filling
250 g almond powder
150g icing sugar
2 egg whites
zest of a lemon
1/2 tsp cinnamon powder
*For Syrup*
300g sugar
750ml water
1 tbsp honey
1 tbsp orange water
Zest of an organic lemon
***
Melted butter for brushing
Toasted sesame / pistachios for decoration.
Method
Mix the filling ingredients & keep aside for an hour.
Then make cigars & keep aside.
Folding
Take a brick pastry & cut into 2 semicircles.
Brush the surface with melted butter. Place an almond cigar in the middle & fold horizontally.
Then fold from either sides & once agian fold to get a cigar.
Press the end with moistened fingers.
Repeat the process with the remaining pastry sheets.
Preheat oven to 180°C & bake 15-20mn until golden brown.
***
Boil water+sugar until it's reduced to half.
Remove from fire & then add honey, orange water & zest.
Mix well & keep aside .
Dip the golden cigars in this hot syrup for a few seconds.
Remove using a slotted spoon & set aside to cool.
Honey Almond Cigars can be decorated with toasted sesame / pistachios.