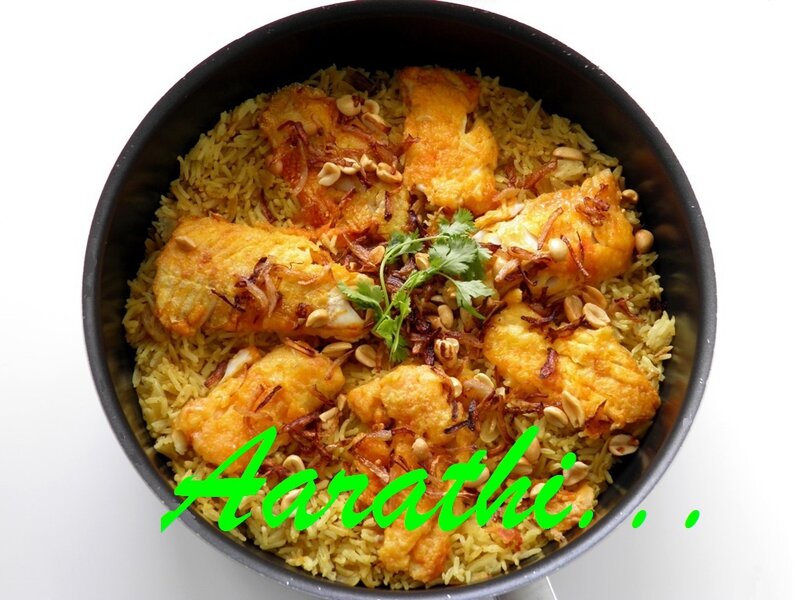 Ingredients
6 white fish Fillets (cod/pollock/haddock)
1/2 tsp coriander powder
1 tsp chilli powder
1/2 tsp turmeric powder
1/4 tsp of cumin powder
Salt to taste
*
Corn flour
Oil for frying
***
6 cups water
1 stock cube
1 tbsp ghee + 2 tbsp vegetable oil
4 cups Basmati rice
5 onions (sliced)
1 tsp coriander powder
1/2 tsp cumin powder
1/2 tsp red chilli powder
1/4 tsp turmeric powder
Salt to taste
Coriander leaves
Garam masala
Toasted pine nuts
Method
Chop the fish fillets & marinate with first 5 ingredients.
Cover & keep in the refrigerator for an hour.
Heat oil in a frying pan.
Toss the marinated fillets in corn flour & shake off excess.
Pan fry them & keep aside.
***
Boil water with stock cube.
Heat oil & ghee in a pan.
Fry sliced onions to golden brown.
Keep aside 2 tbsp of fried onions for decoration.
Then add coriander powder ,cumin powder, chilli & turmeric.
Stir for a while & then add basmati rice.
Mix well & then add boiled water.
Bring to the boil, cover tightly and simmer until the rice is tender and the water has been absorbed.
Reduce the heat.
When rice is 3/4 cooked remove from fire.
Close the lid tightly.
Stir occassionaly with a wooden spatule.
When cooked remove from fire.
Garnish with garam masala & coriander leaves.
Decorate with fried fillets & top with fried onions & nuts.
Serve hot with Raita & Chutney.