Fish Pizza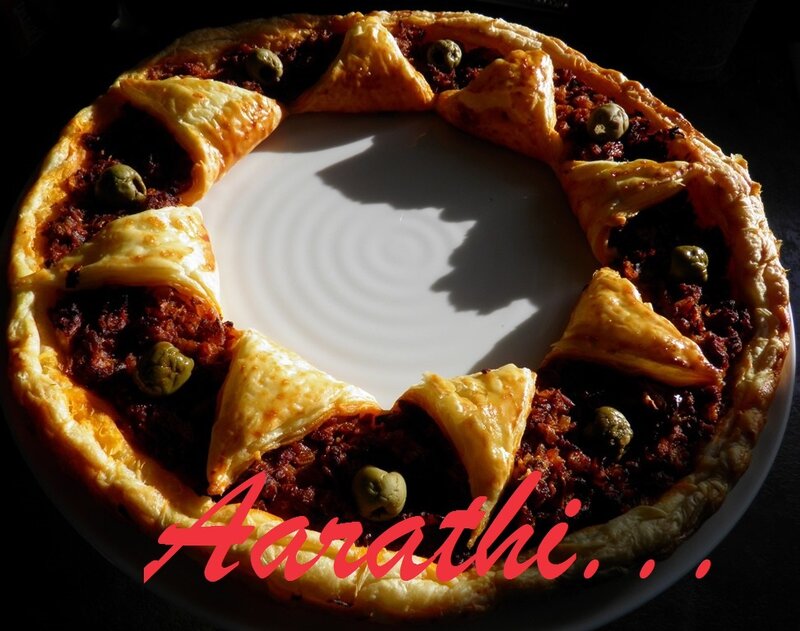 Ingredients
A frozen puff pastry
An egg(beaten)
Tuna Filling
200g tuna in tomato sauce
4 onions (chopped)
A green chilli(chopped)
1 tbsp ginger+garlic paste
1/2 tsp chilli powder
1/4 tsp turmeric powder
2 tbsp olive oil
Coriander leaves/ curry leaves (chopped)
Salt to taste
Method
Fry onions till light golden brown.
Then add ginger- garlic paste & chopped green chilli.
Fry for a while & then add turmeric & red chilli powder.
Then add tuna in tomato sauce.
Stir till the sauce dry up.
Garnish with coriander leaves & keep aside.
Method
Spread the puff pastry on a flat surface.
Place a bowl at the centre, press the bowl & make a mark.
Then with a sharp knife, cut it as in the photo.
Flute decorately the end of the pastry.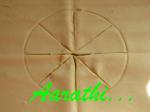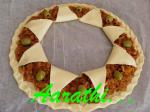 Spread the prepared tuna & fold it as in the photo.
Decorate with green olives & brushthe pastry with a beaten egg.
Bake for 18min, 180° C (Ther - 6) .
Serve warm.