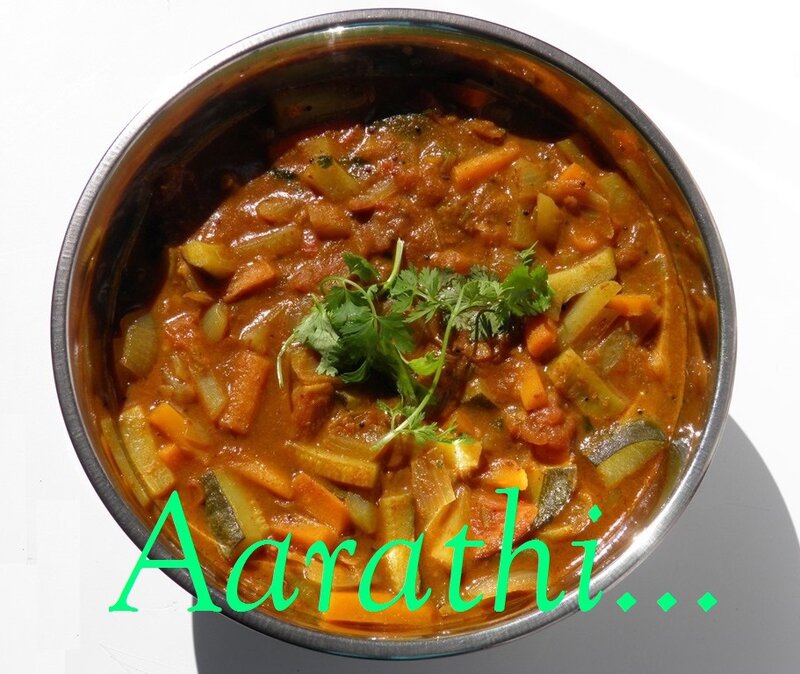 Ingredients
1 tbsp coconut oil
1 cup freshly grated coconut/ dessicated coconut
1 tbsp coriader powder
1 1/2 tsp red chilli powder
2 shallots ( chopped)
****
1 big onion (chopped)
3 shallots (chopped)
2 tomatoes (chopped)
A Zuchini (cut in sticks)
2 Carrots (cut in sticks)
2 potatoes (cut in sticks)
1/2 tsp turmeric powder
Salt to taste
Lemon size tamarind pulp
Fresh curry leaves / Coriander leaves
For seasoning
1 tsp mustard seeds
1 dried red chilli
Few curry leaves
2 tbsp coconut oil
Method
Heat oil in a pan & roast coconut to golden brown along with chopped shallots.
Then add coriannder powder & red chilli powder fry for a while.
Remove from fire & set aside to cool.
Grind them to a fine paste with a little water.
Keep aside.
***
Soak tamarind in water & keep aside for 10 min.
Extract the juice.
Wash, peel & chop vegetables into sticks.
Marinate it with turmeric & salt & keep aside.
Cook the vegetables along with onion & tomatoes.
Add blended paste & along with tamarind extract.
Simmer till the vegetables are cooked. (10mn)
Add in more water to get a thin theeyal.
Remove from fire.
***
Heat oil in a sauce pan.
Splutter mustard seeds, dried chilli & curry leaves.
Add this to the prepared theeyal .
Garnish with fresh curry leaves & coriander leaves.
Serve with rice.