Plantain with Mackerel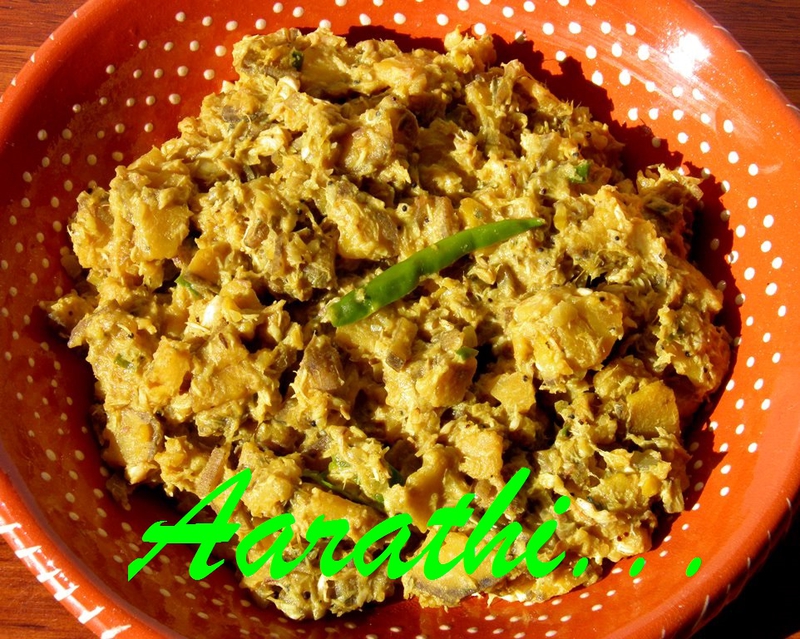 Ingredients
5 shallots (chopped)
1 cup freshly grated coconut / dessicated coconut
1 tsp cumin seeds
1 green chilli
1/4 tsp turmeric powder
Few curry leaves
***
2 green plantains (skinned & quartered)
1/2 tsp chilli powder
Salt to taste
***
2 mackerals
1/4 tsp turmeric powder
1/2 tsp chilli powder
Salt to taste
*Temper *
1 tsp mustard seeds
1 dried chilli
A spring of curry leaves
***
1/4 tsp cumin powder
Method
Coarsely grind first six ingredients & keep aside.
Marinate fish in salt , chilli powder & turmeric powder.
Keep aside for 30 mn.
Wash, peel & cut plantain .
Mix it with a cup of water , salt & turmeric.
Cook for 10-15 mn along with marinated fish pieces.
When the fish is cooked, remove & set aside.
Flake the fish, discarde the bones & mince it.
Add the blended coconut mixture to the plantain & cook for another 3 mn.
When cooked, add minced fish & mix well.
Remove from fire.
***
Heat oil in a pan & splutter mustard seeds.
Add curry leaves a red chilli.
Add to the prepared puzhuku & stir .
Garnish with curry leaves & cumin powder.
Serve with rice.