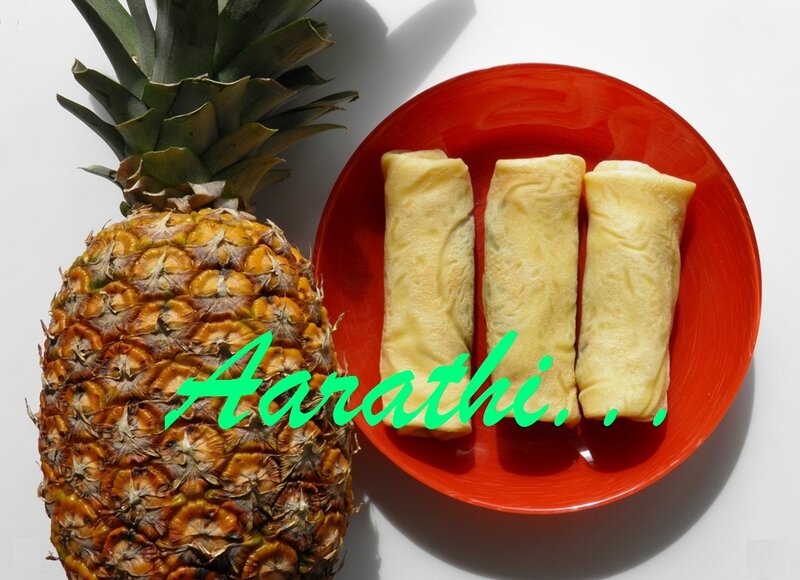 Ingredients
250 g flour
50 g sugar
25 g melted butter
3 eggs
A pinch of salt
150ml milk
1 tsp vanilla essence
For Filling
1 cup freshly grated coconut / dessicated coconut
1 cup freshly chopped pineapple (small)
5 jaggery cubes
2 tbsp water
Raisins & cashews
1/4 tsp cardomom powder
Oil/ ghee for frying
Method
Mix first five ingredients (without any lumps) in a bowl.
Add coconut milk & stir again. Keep aside for half an hour.
If the batter is thick, add some more milk.
Heat a nonstick pan / griddle with little oil.
Pour a spoon full of batter & spread it.(in a circular way)
Flip & cook the other side.
Repeat the same with remaining dough.
***
Gently heat jaggery & water to make a syrup.
Strain it in a thick bottommed pan.
Add chopped pineapple & cook.
Then add grated coconut & keep it on medium heat.
When it becomes thick, remove from fire. Add fried cashews & raisins.
Garnish with cardomom powder & set aside to cool.
***
Stuff the pancakes with the coconut+pineapple mix & roll as in the photo.
Serve with tea.