Peinirli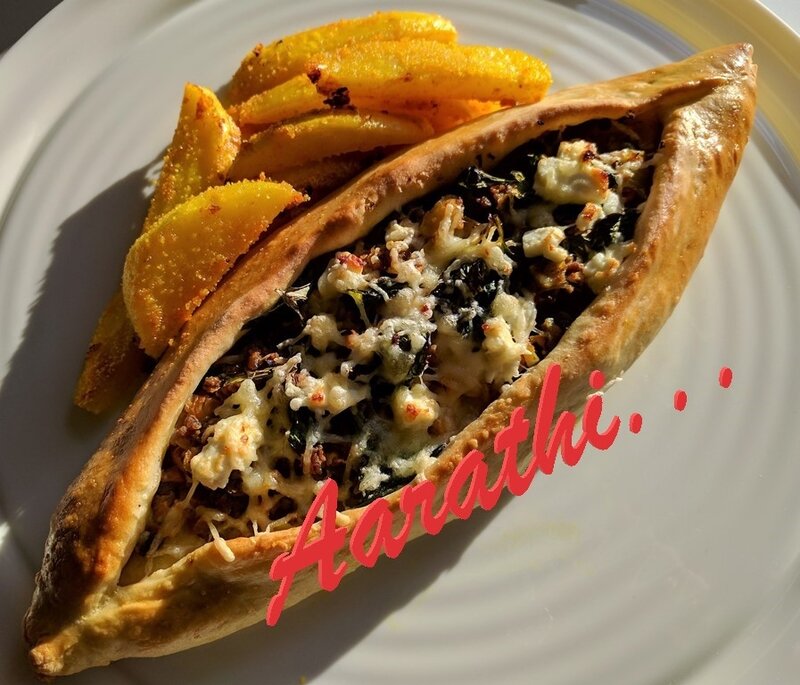 Ingredients
*Base*
450g flour
2 tbsp olive oil
15g fresh yeast or (2 tsp dried yeast)
150 ml luke warm water
1 tsp sugar
Salt to taste
**Onion Layer**
2 big onions sliced
2 tbsp tomato ketchup
**Meat Layer**
250 g minced meat
2 onions(chopped)
1 tbsp tomato puree
2 cloves of garlic + a piece of ginger (make a paste)
1 green chilli
1 tbsp masala powder
1/2 tsp red chilli powder
1/4 tsp turmeric powder
Curry leaves / coriander leaves
Salt to taste
** Topping**
Tender leaves of spinach / lamb lettuce
150 g Feta (Greek cheese)
Method
Dilute yeast in luke warm water with 1 tsp sugar. Set aside for 15 minuites.
Mix all the ingredients of the base in a bowl.
Cover the bowl with a cloth & leave for 1or 2 hours, until it's doubled.
**
Fry onions till translucent & add tomato ketchup.
Set aside to cool
***
Heat oil in a sauce pan.
Fry onions till light golden brown.
Add ginger- garlic paste & fry again.
Then add masala,salt & minced meat.
Add some water & cook for 10 min.
Garnish with curry leaves & keep aside.
***
Spray some more flour & knead it again.
Make four dough balls.
Roll out the dough in to a oval shape.
Spread the onion mix in the middle & arrange some spinach leaves on the top.
Then spread uniformly the prepared meat.
Fold from all sides so that it resembles a boat.
Continue the same with other dough balls.
Leave it to rise for 10 mn.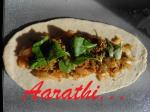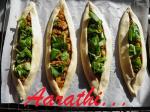 Pre heat oven to 200°C & bake for 15 mn.
Take out from the oven & scatter the crumbled feta over it.
Return to the oven & bake for another for 5 mn.
Serve hot with greek potatoes.