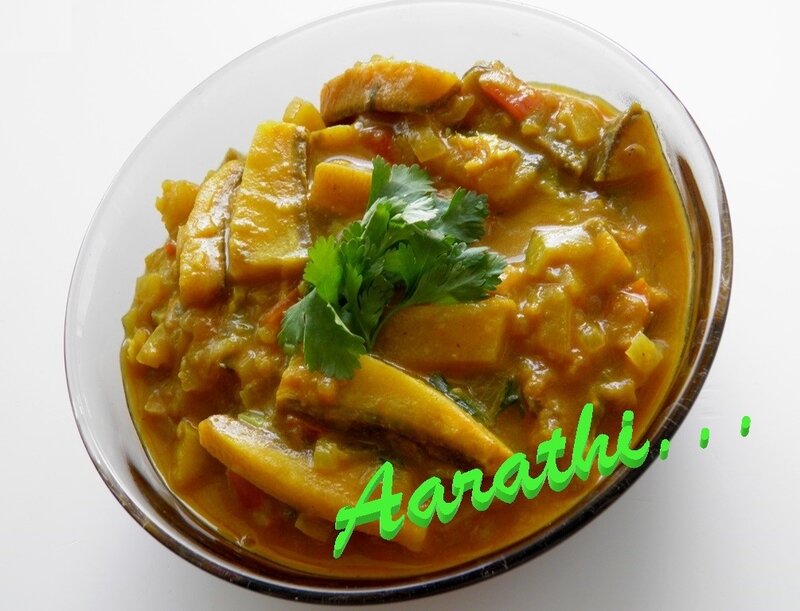 Ingredients
1 green plantain (skinned & cut in sticks)
2 onions (chopped)
A green chilli (half slit)
A tomato(chopped)
A piece of ginger(chopped)
2 garlic cloves(chopped)
1 tsp red chilli powder
1/2 tsp turmeric powder
1/2 cube jaggerry / 1tsp cane sugar
Lemon size tamarind pulp
A pinch of cumin powder
Salt to taste
Oil for frying
Chopped coriander leaves
A spring of curry leaves
Method
Soak tamarind in water & keep aside for 10 min.
Extract the juice & keep aside.
***
Heat oil in pan & fry chopped onions till translucent.
Then add ginger + garlic along with curry leaves & green chilli.
Fry for a while & then add plantain sticks & tomatoes.
Add all the powders & stir so that all are well mixed.
Add tamarind extract, jagerry & salt.
Cover & cook for a while.
When the plantain is cooked , remove from fire.
Garnish with cumin powder & chopped coriander leaves.
Serve with rice / any other bread.