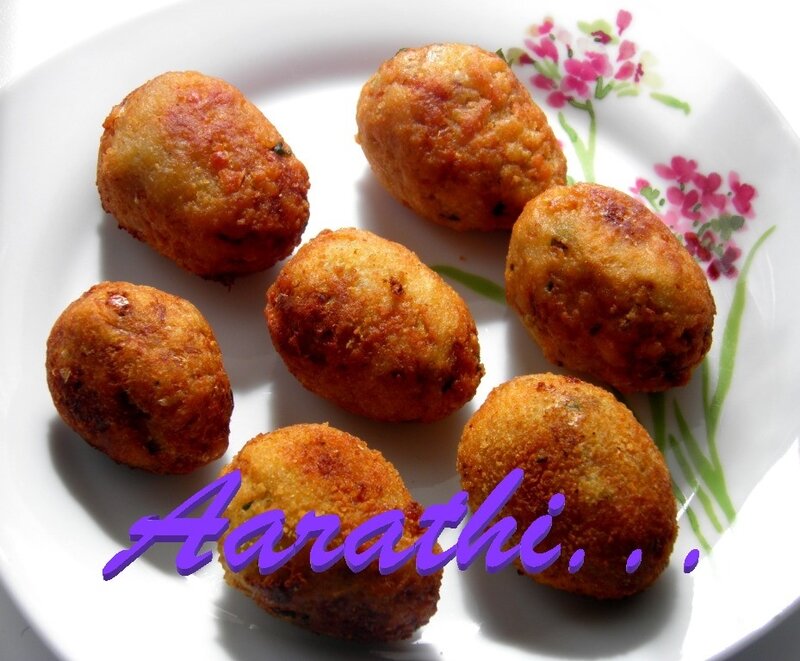 Ingredients
3 mackerels
1/4 tsp turmeric powder
1/2 tsp red chilli powder
Salt to taste
****
A piece of ginger(chopped)
An onion (chopped)
3 shallots(chopped)
Curry leaves (chopped)
A green chilli(chopped)
2 garlic cloves (chopped)

***
2 eggs (beaten)
4 tbsp bread crumbs
Chopped coriander leaves
freshy ground black pepper
Salt to taste
* Dipping*
An egg (beaten)
1 tbsp corn flour
*Rolling*
2 tbsp bread crumbs
1 tbsp corn flour
Oil for frying
Method
Marinate mackerels in first three ingredients & keep aside for an hour.
Cook in a cup of water.
Remove from fire , drain & set aside to cool .
Remove the bones & mince it .
***
Using a chopper blend the next 6 ingredients.
Transfer to a bowl along with minced fish .
Add beaten eggs, bread crumbs & chopped coriander leaves
Mix all the ingredients & garnish with pepper & coriander leaves.
Cover the bowl with a damp cloth & keep aside for half an hour.
***
Meanwhile mix corn flour & a beaten egg.
Mix corn flour with bread crumbs in a plate.
Make small balls , dip in corn flour mix & roll in bread crumbs.
Refrigerate the rolled balls for 15 mn.
Deep fry the croquettes in a pan or a deep fryer.
Remove using a slotted spoon & drain on a kitchen paper.
Serve these crunchy croquettes for tea or as a starter.