Soya Chicken Rice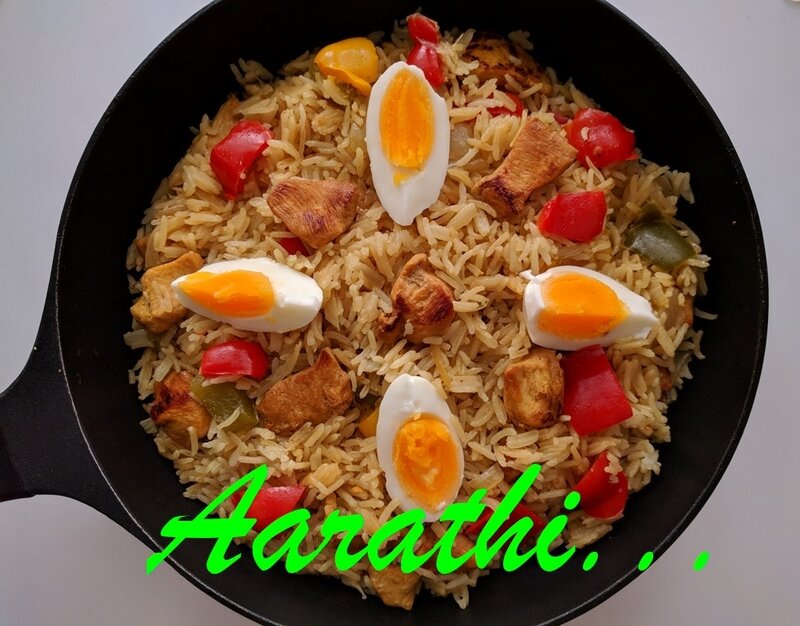 Ingredients
6 skinless chicken breasts(cut in cubes)
Half of 3 capsicums (red, yellow, green)
1 tbsp honey
1 tbsp vinegar
1 tsp Kashmir chilli powder
1 tbsp soya sauce
1/2 tsp black pepper powder
***
4 cups Basmati rice
6 cups water + 1 stock cube
2 onions ( cut in cubes)

A piece of ginger (chopped)
2 garlic cloves (chopped)
2 green chillies (half slit)
Spring onions (chopped)
Coriander leaves
Method
Marinate chicken & capsicum cubes with first five ingredients.
Keep in the refrigerator for an hour.
***
Boil water with stock cube & keep aside.
Warm oil in a pan & fry marinated chicken & capsicums .
Strain & keep aside.
In the same casserole, add some more oil & fry onions till light golden brown.
Then add chopped ginger, garlic & green chillies.
Then add basmati rice & stir.
After some time , add chicken stock.
Bring to the boil, cover tightly and simmer until the rice is tender and the water has been absorbed.
Reduce the heat .
When rice is 3/4 cooked, add fried chicken & capsicum.
Mix & close the lid tightly.
Remove from fire & stir occassionaly with a wooden spatule.
Garnish with chopped spring onions & coriander leaves.