Plov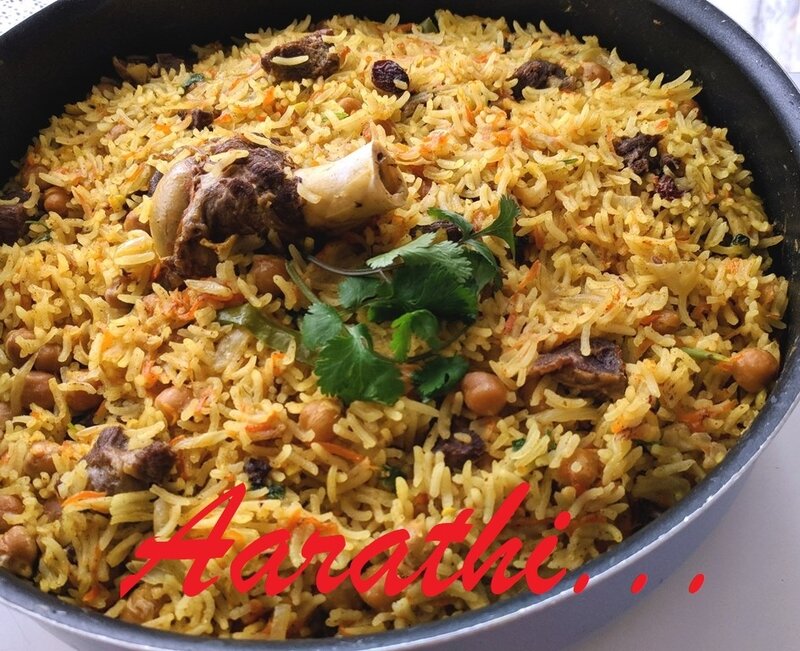 Ingredients
1 kg mutton
1 tsp salt
1 tbsp meat masala
***
300g cooked channa /canned garbanzo beans
3 onions (chopped)
4 carrots (peel & grated)
2 green chillies (half slit)
2 garlic heads
2 tsp cumin seeds
1 tsp red chilli powder
1/2 tsp turmeric powder
1 tbsp ghee
Oil for frying.
*Rice*
A bay leaf
3 cloves
1 cinnamon stick
1 star anise
3 cardomom pods
Oil for frying
2 tbsp ghee / oil
3 cups Basmati rice
3 cups broth + 2 cups water.
Method
Marinate mutton pieces with first two ingredients & keep aside.
Heat some oil in a pressure cooker & fry the marinated pieces.
Add sufficient water & pressure cook.
Separate meat & broth.
***
Soak channa dal overnight & pressure cook.
If you are using canned, drain the water & keep aside.
Heat oil in a pan & fry onions to light golden brown.
Then add grated carrots , channa dal, green chilli & garlic heads.
Fry for a while & then add cooked meat.
Add chilli powder & turmeric powder
Cover & cook for a while.
Crush the cumin seeds with hands & garnish.
***
Heat ghee+oil in a sauce pan.
Add Cinnamon, cardomom,star anise & cloves.
Add basmati rice & stir.
Add 3 cups of boiled water along with prepared stock.
Bring to the boil, cover tightly and simmer until the rice is tender and the water has been absorbed.
Reduce the heat.
When rice is 3/4 cooked , add the prepared meat .
Mix with a spatule so that the meat is well mixed.
Close the lid tightly & keep aside for 2 mn.
Discard the green chillies & garlic;
Transfer the Uzbek-Plov in a serving plate & enjoy.