Spinach & Salmon Pinwheel X'mas tree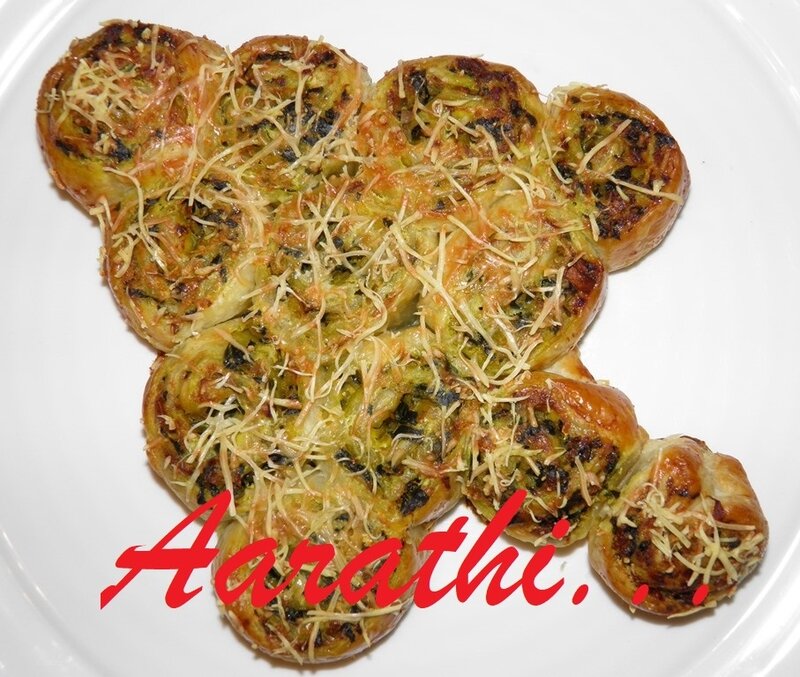 Ingredients
A puff pastry
An egg (beaten)
Filling
2 onions (chopped)
A green chilli (chopped)
2 garlic cloves (chopped)
A piece of ginger(chopped)
A bunch of spinach leaves(chopped)
A canned salmon (drain & mince)
2 tbsp olive oil
1 tsp cumin seeds
***
150 g cream Cheese
Grated Cheese
Method
Heat olive oil & fry onions to light golden brown;
Add chopped chilli, garlic & ginger.
Fry for a while & then add minced salmon.
Mix well & then add chopped spinach leaves.
Remove from fire & garnish with cumin seeds.
***
Roll out the puff pastry .
Spread a layer of cheese using a spatule leaving 1 cm from the edge.
Top with the prepared spinach-salmon mix.
Roll & keep it in the fridge for an hour.
Preheat oven to 180°C.
Then cut into 12 discs of width 2 cm using a sharp knife.
Place it on a baking tray in the form of a X'mas tree.
Brush the surface with beaten egg.
Bake for 15 mn - until puffed & golden brown.
Take out from the oven & scatter grated cheese over it.
Retuurn to the oven & bake for another 2mn.
Serve hot with tea / as a starter.