Scallop Ghee Roast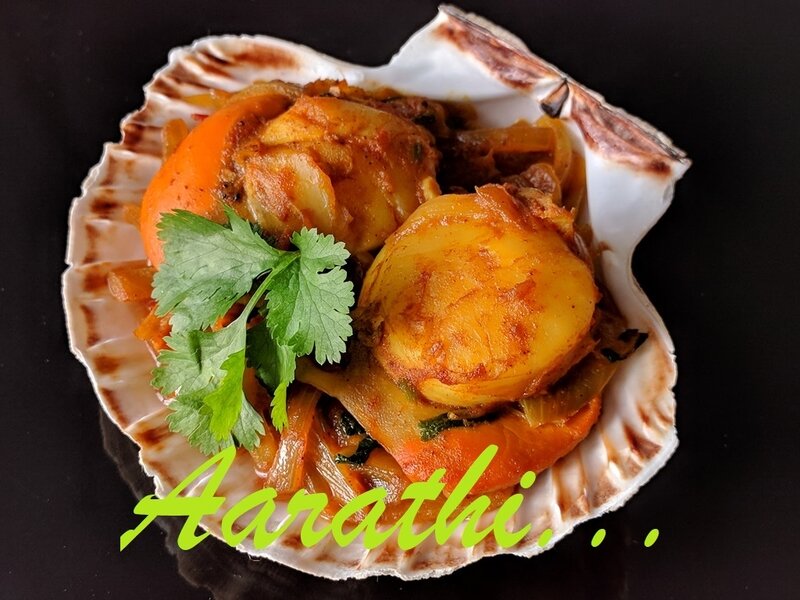 Ingredients
10 fresh scallops
1 tsp salt
1/2 tsp red chilli powder
1/4 tsp turmeric powder
***
Berry size tamarind pulp
1 tbsp ghee + 1tbsp oil
2 onions (sliced)
2 garlic cloves (chopped)
A small piece of ginger (chopped)
1 tsp coriander powder
1/2 tsp red chilli powder
1/4 tsp turmeric powder
1/4 tsp fennel seeds powder
Salt to taste
Freshly ground pepper
Chopped coriander leaves
Method
Open & scoop out the scallops.
Wash several times in cold water to remove sand.
Strain & then blot dry with kitchen paper.
Marinate them with tumeric,chilli & salt & keep aside.
Heat oil in a nonstick pan & fry marinated scallops (each side 2 mn)
Drain & keep aside
***
Soak tamarind in water & keep aside for 10 min.Extract the juice.
Heat oil+ ghee in a pan & fry onions till translucent.
Then stir ginger+ garlic paste ,along with masala powders.
Fry for a while to avoid raw smell & then add tamarind extract
Cover & cook for a while.
When the sauce is thick, remove from fire.
Add fried scallops & cover them with onion mix .
Garnish with ground pepper & chopped oriander leaves .
Serve them in scallop shells.