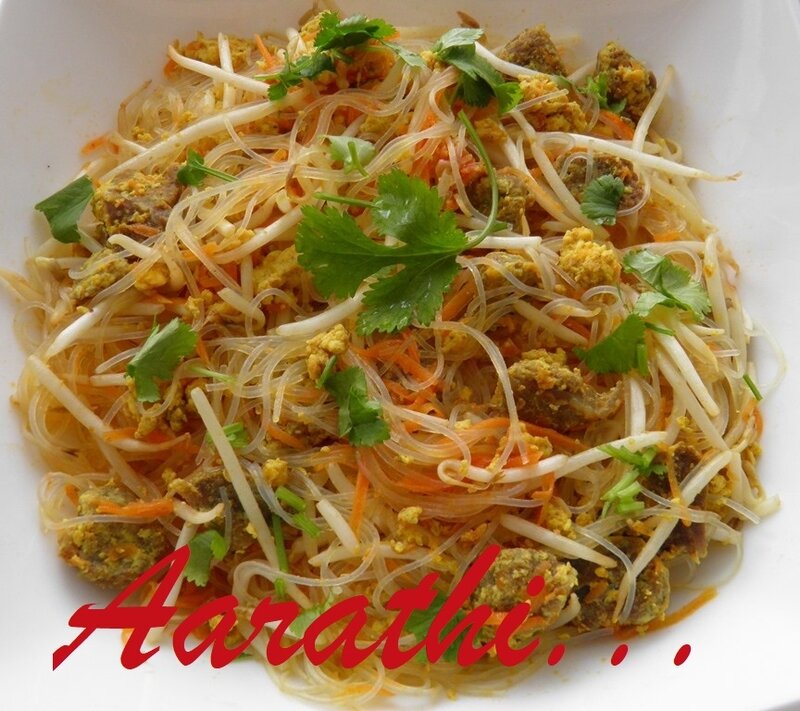 Ingredients
250g cooked rice noodles
***
2 branches of basil leaves
1 cup cooked beef
1 tsp red chilli powder
Salt to taste
3 eggs (beaten)
***
1 onion (chopped)
2 carrots (julienned)
3 garlic cloves
2 shallots
A red chilli
1 tbsp ketchup
Oil for frying (sesame)
Soya sprouts
Peanuts
Coriander leaves
Method
Boil noodles in unsalted water over medium heat.
If done,drain & rinse with cold water.
***
Heat oil in a pan & fry basil leaves.
Then add beef pieces , red chili powder& salt.
Fry for a while & then add beaten eggs .
Scramble it & keep aside.
***
Blend garlic , shallots & chilli in a chopper.
Heat oil in another sauce pan & fry the blended mix .
Then add chopped onion & julienned caroots.
Fry till translucent & then add ketchup.
Cover & cook for a while.
When cooked, fold in cooked noodles & the prepared beef.
Toss several times & garnish with soya sprouts, peanuts & coriander leaves.