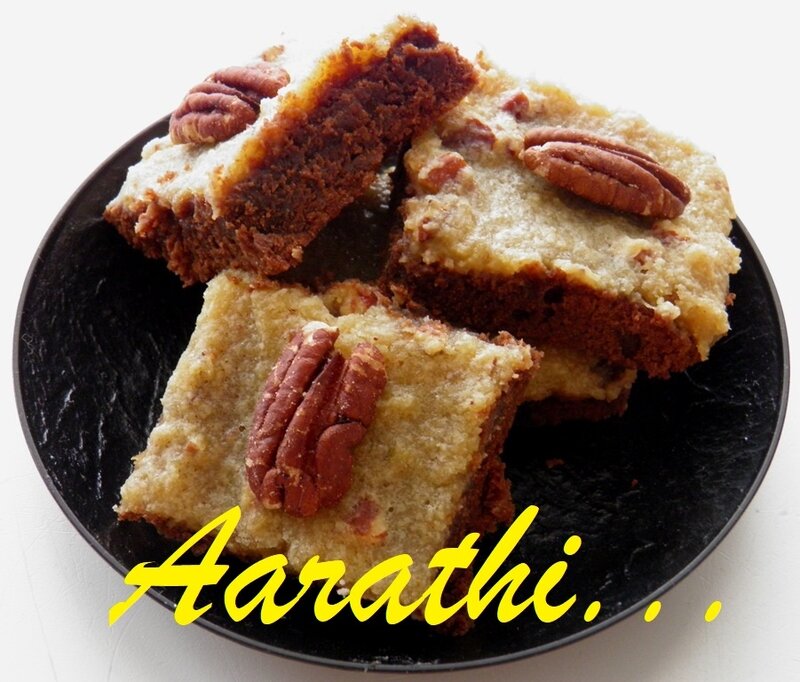 Ingredients
* For Brownie *
2 eggs
120g black chocolate
1 tbsp water
90g sugar
100g butter
50g flour
1/2 tsp cinnamon powder
* Coconut topping *
1 cup milk
1 cup sugar
1/2 cup butter
2 cups grated coconut
1/2 cup chopped pecan nuts
1 tsp vanilla essence
3 egg yolks beaten
Method
Break the chocolate bar & add a tbsp water.
Melt in microwave oven 2 mn.
Add butter & mix well.
In another bowl beat eggs & sugar.
Sieve the flour & fold into the cake mixture.
Add cinnamon powder & chopped nuts.
Pour the batter into the greased cake pan (square).
Preheat oven to 180°C & bake for 25mn.
***
Beat egg yolks with sugar .
Warm milk with chopped butter.
When melted, add beaten eggs;
Stir constantly over medium heat
When it thickens, remove from fire.
Then add grated coconut, chopped nuts & vanilla essence.
Spread evenly over the prepared brownies.
Cool, cut in squares & decorate with pecan nuts.