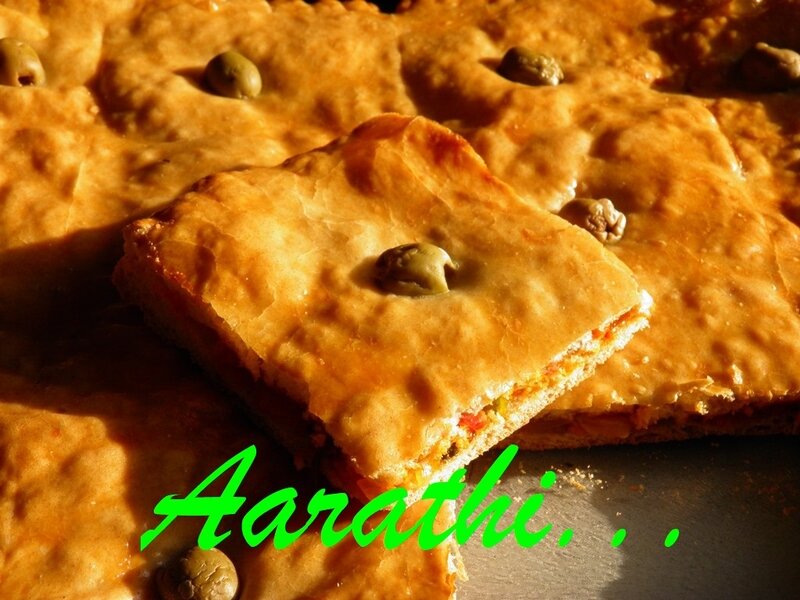 Ingredients
500g flour
An egg
2 tbsp olive oil
15g fresh yeast or (2 tsp dried yeast)
150 ml luke warm water
1 tsp sugar
Salt to taste
**Filling**
A bay leaf
2 branches of Thym
3 big onions (chopped)
A big tomato (chopped)
2 cloves of garlic(chopped)
A red bell pepper(chopped)
A green bell pepper (chopped)
1tsp red chillipowder
1/2 tsp paprika powder
2 tbsp organic tomato puree
Salt to taste
2 tbsp olive oil
1/2 tsp cumin powder
Coiander leaves
Oil for frying
** Topping**
An egg (beaten)
Olives
Method
Dilute yeast in luke warm water with 1 tsp sugar. Set aside for 15 minuites.
Mix all the ingredients of the base in a bowl.
Cover the bowl with a cloth & leave for 1or 2 hours, until it's doubled.
****
Heat olive oil in a pan & fry onions to light golden brown.
Fry for a while & then add chopped bell pepper.
Add chopped garlic & tomatoes.
Then add paprika powder & chilli powder.
Mix well & then add tomato sauce.
Add some water & cook for 10 min.
When the sauce leaves the sides of the pan, remove from fire;
Garnish with cumin powder & coriander leaves.
Keep aside to cool.
***
Spray some more flour & knead it again .
Half the dough & make two balls balls.
Take a dough ball & roll out in rectangular shape.
Spread the prepared vegetable mix evenly as in the photo.
Brush the edges with beaten egg .
Roll out the other dough ball into rectangular shape & cover the vegetable mix.
Keep in the refrigerator for 10 mn.
Brush the top with the beaten egg .
Cut in squares & arrange olives inthe middle of each square.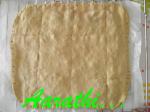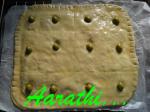 Arrange on the baking tray.
Pre heat oven to 200°C & bake for 30 mn.