Tuna Pizza topped with Cherry Tomatoes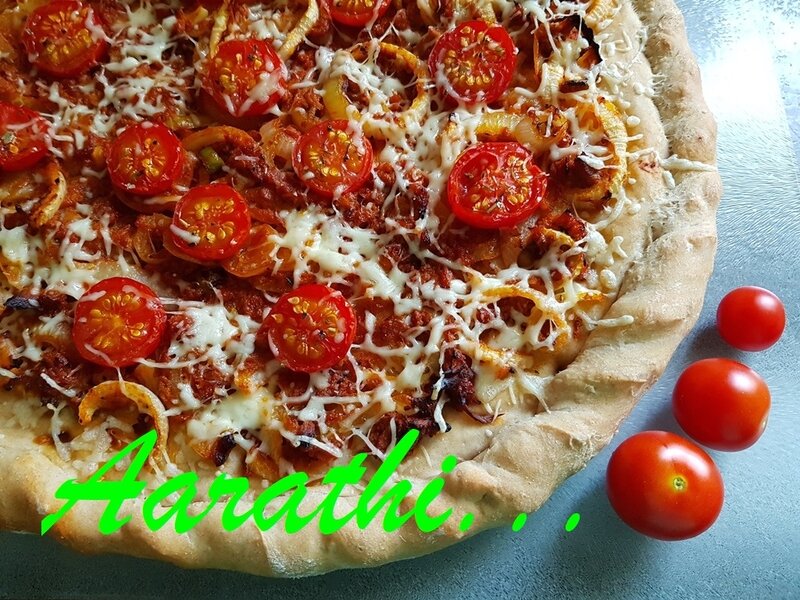 Ingredients
*For the base*
450g flour
2 tbsp olive oil
15g fresh yeast or (2 tsp dried yeast)
150 ml luke warm water
1 tsp sugar
Salt to taste
**Tuna Topping**
200g tuna in tomato sauce
4 onions (cut in circles)
A green chilli(cut in coins)
1 tbsp ginger+garlic paste
1/2 tsp chilli powder
1/4 tsp turmeric powder
2 tbsp olive oil
Coriander leaves/ curry leaves (chopped)
Salt to taste
***
Cherry tomatoes
Salt & Pepper
Grated cheese
Method
Dilute yeast in luke warm water with 1 tsp sugar. Set aside for 15 minuites.
Mix all the ingredients of the base in a bowl.
Cover the bowl with a cloth & leave for 1or 2 hours, until it's doubled.
***
Heat oil in a pan & fry onion rings till.
Then add ginger- garlic paste & chopped green chilli.
Fry for a while & then add turmeric & red chilli powder.
Then add tuna in tomato sauce.
Stir till the sauce dry up.
Garnish with coriander leaves & keep aside.
***
Spray some more flour & knead it again.
Take the dough ball over a parchement paper.
Roll out the dough in to a circular shape.
Leave it to rise for 10 mn.
Spread evenly the prepared tuna sauce over the pizza.
Half the cherry tomatoes & arrange as per your choice.
Spray some olive oil & top each of them with salt & pepper;
Flute decorately the end of the pastry.
Pre heat oven to 200°C & bake for 15 mn.
Then scatter grated cheese over it.
Return to the oven & bake for another for 5 mn.
Slice & serve your loved ones.