C'est la Saint Valentin, Fête des Amoureux
Pink Cookies Ladoo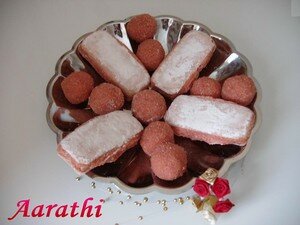 Ingredients
10 Pink biscuits of Reims
50g butter
50g icing sugar
An egg yolk
1 tbsp milk
1/2 tsp cinnamon powder
Method
Blend the biscuits into fine powder.
Add egg yolk, milk, icing sugar & keep aside.
Melt butter & add cinnamon powder.
Pour & gently mix with the other ingredients.
Make small balls & roll it on icing sugar.



Crunchy pink biscuits is the the speciality of Reims, capital of the Champagne Region.
French dip these rectangular pink cookies in bubbly wine champagne.
La Maison Fossier is making them since 1756 & it's widely known as "Biscuits roses de Reims" .