Moong Dal - Date Pradaman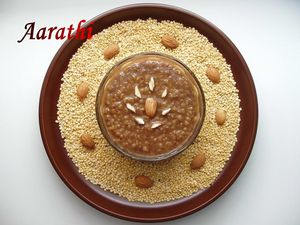 Ingredients
1 cup split moong dal ( Cherupayar Parippu)
1 cup date paste
4 cubes of jagerry
1 1/2cup of coconut milk / milk
A pinch of salt
1/4 tsp cardomom powder
Almonds / Cashews / Coconut
Ghee
Method
Gently heat jaggery & water to make a thick syrup.
Strain it & keep aside.
Fry moong dal in 1 tbsp ghee.
Stir in water & cook for 15mn.
When cooked, add jagerry syrup & date paste
Stir well & then add coconut milk.
Add a pinch of salt,cardomom powder.
Decorate with fried Almonds / Cashews / Coconut.




In Kerala, we used to decorate with roasted coconut pieces.