Spaghetti & Meat balls Curry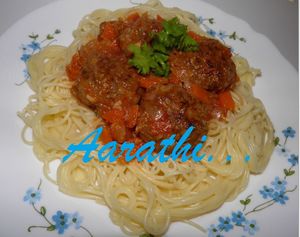 Ingredients
An onion + 2 shallots (chopped)
A small piece of ginger(chopped)
2 garlic cloves(chopped)
A green chilli(chopped)
I tsp dried Italian herbs
1/2 tsp red chilli powder
1 cup bread crumbs
An egg
450g ground beef
Salt to taste
Olive oil
**
3 tomatoes choped
1 tbsp tomato paste
1 onion ( thinely sliced)
2 carrots (thinly sliced)
2 garlic cloves (thinly sliced)
1/4 tsp turmeric powder
1/2 tsp red chilli powder
1 tsp dried herbs
1/4 cup red wine
Salt to taste
Olive oil for frying
Coriander /Parsely
***
Spaghetti
Method
Coarsely grind first five ingredients & add to the minced meat.
Add dried herbs, bread crumbs, salt & an egg.
Mix well & keep in the fridge for an hour.
Make small balls of prepared mixture & fry them in olive oil.



Heat oil in a sauce pan.
Add chopped onion, carrots & garlic.
Fry till translucent & then add chilli + turmeric + salt.
Then add chopped tomatoes along with dried herbs & tomato paste.
Add a cup of wine & stir well.
When evaporated , add a cup of water .
Then add fried meat balls so that balls are soaked in the sauce
Cover & cook for a while.



When the sauce is reduced, remove from fire.
Boil spaghetti in salted water over medium heat.
If done,drain & rinse with cold water.
Toss spaghetti with olive oil.
***
Serve the prepared sauce over the spaghetti along with grated cheese & coriander leaves.



Italian dried herb is a mix of dried (basil+oregano+rosemary+thyme+sage+majoram).