Kosha Murgi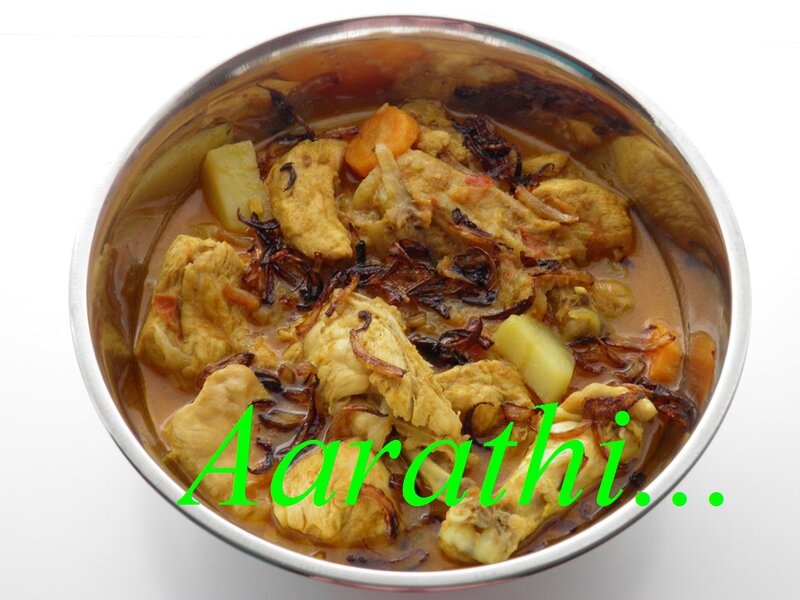 Ingredients
1 kg chicken
1 tsp salt
1/2 tsp turmeric powder
1 tsp kashmir chilli powder
1 tbsp coriander powder
* Spices*
3 cloves
A cinnamon stick
3 cardomom pods
A bayleaf
***
1 tsp sugar
1/2 tsp red chilli powder
2 onions (chopped)
2 tomatoes (chopped)
2 potatoes-cubed(optional)
2 carrots-coins (optional)
2 garlic cloves + A piece of ginger
1 tbsp oil + 10g butter /ghee
* For decoration*
1 tbsp oil/ ghee
A onion (thinly sliced)
1 hand full of coriander chopped
Coriander leaves
Garam masala
Method
Marinate chicken with first four ingredients .
Keep in the refrigerator for an hour.
Warm the oil+ butter in a skillet & fry spices.
Then add sugar & just leave it to caramalise.
Then add chopped onions & fry till golden brown.
Add a cup of water & stir .
Then add ginger+garlic paste & then chilli powder
Fry on medium heat till the oil separates.
Add the marinated chicken pieces along with chopped tomatoes.
Mix well & add some water.
Cover & cook, stirring from time to time. (30mn)
***
Heat the oil/ ghee in a frying pan.
Then add the finely sliced onions.
Fry themto to golden brown & drain it on a kitchen paper.
Garnish the prepared curry with fried onions, coriander leaves & garammasala.
Serve with rice / any type of bread.