Kofta Biryani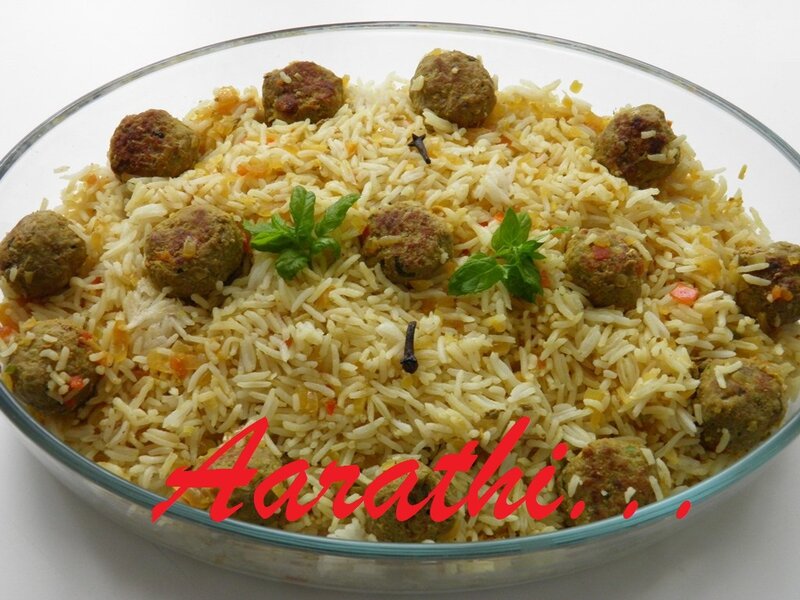 Ingredients
3 shallots
A small piece of ginger
2/3 garlic cloves
A green chilli
Few mint leaves
***
450g minced meat
1tbsp coriander powder
1/4 tsp turmeric powder
An egg
Salt to taste
Oil for frying
***
1 cinnamon stiick + 2 cloves
2 onions (chopped)
2/ 3 garlics (chopped)
A green chilli (chopped)
A piece of ginger (chopped)
2 tomatoes(chopped)
1 tbsp coriander powder
Garam masala
Coriander leaves
* For Rice *
4 cups Basmati rice
6 cups water
1 tsp salt
1 cinnamon stick
3 cardomom pods
1 star anise
1 bay leaf
3 cloves
3 tbsp ghee / oil
Method
Coarsely grind first five ingredients & add to the minced meat.
Add curry powder, salt & an egg.
Mix well & keep in the fridge for an hour.
Make evenly sized balls , roll in flour & deep fry till golden brown.
***
Heat oil in a pan & add cinnamon & cloves.
Then fry onions to light golden brown.
Add chopped ginger, garlic & green chilli.
Fry for a while & then add chopped tomatoes.
Cover & cook for a few minuites.
They add fried meat balls & cook for another 20 mn.
Garnish with coriander leaves & garam masala.
*Rice *
Boil water, add salt & keep aside.
Heat ghee in a sauce pan.
Add Cinnamon, cardomom,star anise & cloves.
When aroma of the spices rises add basmati rice & stir.
When some rice grains change to light brown, add boiled water.
Bring to the boil, cover tightly and simmer until the rice is tender and the water has been absorbed.
Reduce the heat.
When rice is 3/4 cooked remove from fire.
Add prepared meat ball masala & close the lid tightly.
Stir occassionaly with a wooden spatule.
When fully cooked remove the lid & let it cool.
Garnish with garam masala & coriander leaves.
Transfer it on a serving plate & decorate with meat balls & mint leaves.