Pizza provençale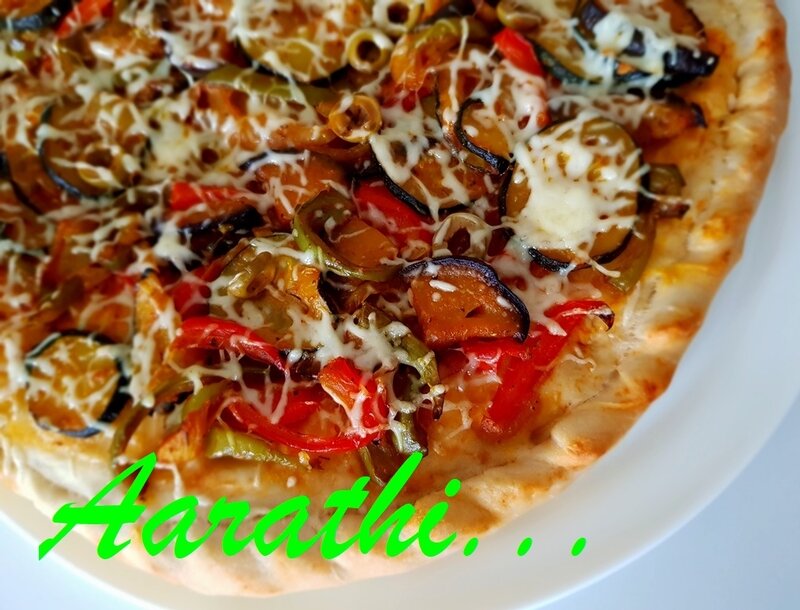 Ingredients
*For the base*
450g flour
2 tbsp olive oil
15g fresh yeast or (2 tsp dried yeast)
150 ml luke warm water
1 tsp sugar
Salt to taste
**Sauce**
2 tbsp olive oil
A bay leaf
3 tbsp organic tomato puree
A green chilli cut in rings (optional)
An onion (sliced)
5 cloves of garlic(cut in rings)
A zuchini(cut in coins)
An eggplant(cut in coins)
Red & green bell pepper (sliced)
1 tsp paprika powder / red chilli powder
Salt to taste
1 tsp herbes de Provence
** Topping**
100 g grated cheese (Emmental)
Method
Dilute yeast in luke warm water with 1 tsp sugar. Set aside for 15 minuites.
Mix all the ingredients with the wooden spoon.
Cover the bowl with a cloth & leave for 1or 2 hours, until it's doubled.
***
Heat oil in a pan with bay leaf & thyme branches;
Add chopped garlic & fry for a while.
Then add chopped vegetables , salt & tomato puree ;
Mix well , cover & cook for a while.
Remove frome fire & garnish with herbes de Provence.
Discard bay leaf & thyme braches.
****
Spray some more flour & knead it again.
Take the dough ball over a parchement paper.
Roll out the dough in to a circular shape.
Leave it to rise for 10 mn.
Spread evenly the prepared vegetables over the pizza.
Pre-heat oven to 200°C & bake for 15 mn.
Then scatter grated cheese over it.
Return to the oven & bake for another for 5 mn.
Slice & serve with your loved ones.