Idiyappam / Noolputtu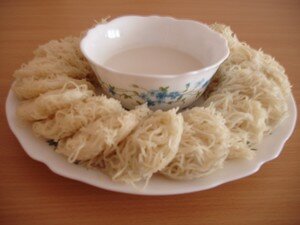 (Kerala speciality)

Ingredients
200 g rice powder
250 ml water ( I took 125 coconut milk + 125 water)
30 g butter
Shredded coconut
salt to taste.
Method
Boil water. Add butter & rice powder.
Stir with a wooden spatule & remove from fire.
Then add coconut milk.
Cover with a damp cloth & leave for a few minuites.
Knead it into a smooth dough.
Grease the idiyappam mould & Idli maker.
Take a dough ball & press it.
Put 1 tsp of shredded coconut (fresh) on each idiyappam.
Steam for about 10 min.
Serve with sweetened coconut milk.