Pappadam & Pazham ( Choyyi's pudding)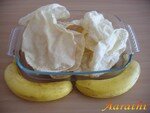 Pappadam's are made of urud dal. U can get it from Indian Grocery shop.
Deep fry pappadams in hot oil & drain it in a kitchen paper.
Crush the crispy pappadoms ito small bits (with hands) & keep aside.
Mash bananes & sprinkle pappadam bits over it.
Add 2 tsp ghee & some sugar. Enjoy !


A simple kerala desert appreciated by young & old.
In malabar area it's called "Choyyi's pudding ".