Feast of Epiphany / Little Christmas

Fête des Rois (Festival of Kings) is celebrated in the month of January (Jan 6th) to honour the three wise men coming to see the infant Jesus . For this feast, French prepare their famous pastry Galette des Rois / King's Cake. A fava bean is hidden inside the galette before baking. Now a days a small china figurine called "fêve" is used. Galette is cut into as many slices as the number of guests. The lucky one who gets the fêve is crowned as a king & he must choose his queen. There's a custom that the king/queen must offer the next galette. This feast is celebrated in schools, offices & in every French family. In the kindergarten, kid's prepare the galette & make a cardboard crown.
Famous nursery rhyme based on this galette is as follows..

J 'aime la galette
Savez-vous comment?
Quand elle est bien faite,
Avec du beurre dedans.
Tralalala lalalalère
Tralalala Tralalala
Galette des Rois / Kings' Cake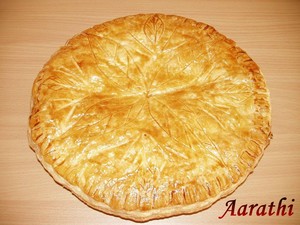 Ingredients
2 frozen puff pastry.
1 trinket
For filling
125 g almond powder
25 g cruhed almonds
100 g butter
125 g sugar
2 eggs + 1 egg yolk
1 tsp vanilla / almond essence
Method
Pre heat oven to 210° (Ther -7).
Mix butter & sugar.
Then add beaten eggs & vanilla essence.
Keep in the refrigerator for 10 min.
Spread one of the puff pastry on a baking tray.
Leave 2/3 cim border & spread uniformly the almond paste.
Don't forget to place a trinket.
Place the second puff pastry on top & press the edges using a fork handle.
Leave in the refigerator for 20min.
Using a knife , draw a pattern over the galette.
Don't forget to make 4/5 holes on it.
Then beat an egg yolk with 1 tbsp water & brush it on the the top of the galette.
Bake for 30min, 180° C (Ther - 6)
Serve warm / cold with apple cider.