Kori Gassi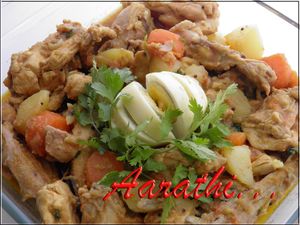 Ingredients
1 kg chicken
1 tsp salt
1 tsp turmeric powder
* dry roast & powder*
1 tbsp coriander powder
2 tsp poppy seeds
1 tsp fennel seeds
1 tsp kashmir chilli powder
4 cloves
1/2 tsp cumin seeds
1/2 tsp musturd seeds
1/2 tsp cinnamon powder
***
1 cup freshly grated coconut
*coarsely grind*
1 onion (chopped)
3 garlic cloves
A piece of ginger
* To Temper*
1 tsp musturd seeds
An onion( chopped)
A bay leaf
***
1 tomato(chopped)
Freshly ground pepper
Curry leaves
2 carrots(cut in coins)
2 potatoes(optional)
hard boiled eggs (optional)
Oil for frying
Coriander leaves / Curry leaves
Method
Marinate chicken with salt & turmeric.
Dry roast the spices. Cool & blend into fine powder.
Fry coconut till light golden brown.
Mix it with the masala powder & grind to a fine paste.
***
Fry onions till light golden brown.
Then add chopped garlic & ginger.
Cool & grind to a fine paste.
Mix with the coconut masala & keep aside.
***
Warm the oil in a casserole & splutter musturd seeds + bay leaf.
Fry chopped onions to light golden brown.
Add the marinated chicken pieces along with chopped tomatoes & carrots.
Fry for a while & then add the masala paste.
Mix well & add two cups of water.
Cover & cook, stirring from time to time.
When the chicken is just cooked, add chopped potatoes.
When the potatoes are cooked, remove from fire.
Garnish with pepper powder & coriander leaves/curry leaves.
Decorate with hard boiled eggs.
Serve this chicken curry with rice / any type of bread.